Muay Thai fighter Nguyen Tran Duy Nhat has won the world championship titles eight times, seven in combat competitions and one in performance. But he has never topped the Southeast Asian Games podium.
Ahead of the upcoming Games, which will be his fifth, Thanh Ha spoke to him about his preparation.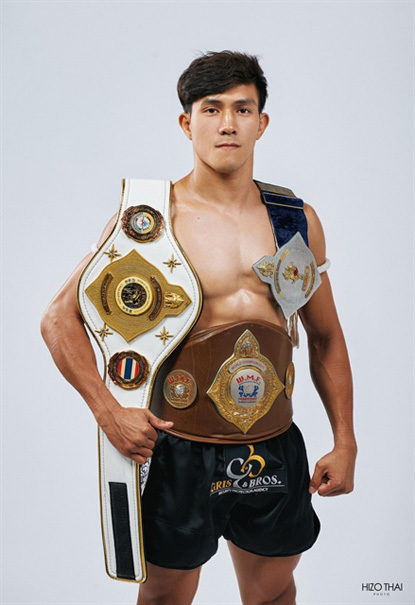 Nguyen Tran Duy Nhat, eight-time Muay Thai world champion. Photos courtesy of Nguyen Tran Duy Nhat
Why do you love and practice Muay Thai?
I first started training in martial arts at the age of six, continuing a long time family tradition and earned a black belt in traditional Vietnamese martial arts.
When I was a student at HCM City Sport University, I first saw Muay Thai in the movie Ong-Bak, starring Tony Jaa who introduced international audiences to the traditional form of Muay Thai, a kickboxing style.
I found similarities between Muay and the martial arts of my family. I was also impressed with typical moves using elbows and knees that Jaa performed in the film. Furthermore, the Thai martial art has been organized internationally, and I wanted to represent Vietnam globally.
I decided to try it. My family strongly supported me, and I was recruited to HCM City's Muay Thai team in 2008.
I also had a chance to practice and compete in Thailand too. To me, nothing is better than representing Vietnam in combat and bringing home victory.
You are the idol of many athletes and supporters. Do you have an idol of your own?
I love Bruce Lee. I idolize him not only because of his talents but also the way he made friends, learned and exchanged knowledge of martial arts. He played a significant role in popularizing Chinese martial arts including his own, Jeet Kune Do, to the wider world.
In the Muay Thai community, I admire the legend Buakaw Banchamek. I had an opportunity to compete with him in 2018 in HCM City. I watched many videos and clips of his competitions and learned a lot from him.
Tony Jaa, of course. I love his beautiful moves in the movies. He inspired me to practice Muay Thai.
In Vietnam, my parents are my idols. I have traveled a lot and met many people, including senior martial artists who all talked about my parents with respect.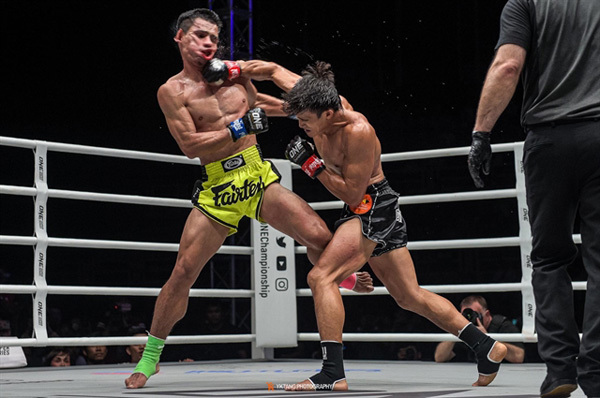 Nguyen Tran Duy Nhat (right) lands a punch on his rival during a Muay Thai tournament. Nhat is ready to win his first SEA Games title this summer. — Photo courtesy of Nguyen Tran Duy Nhat
In your 14 years in Muay Thai and almost 30 years practicing martial arts, which is the win or loss you remember most?
My first SEA Games in 2009 was my most memorable defeat. I was in my twenties and confident ahead of the final against Teerawat Wannalee of Thailand.
I did a great job but lost because the referees gave him more points than me.
I was disappointed and shouted in my room. But then I thought a lot and told myself, instead of sadness, I must work harder and win by knock-out so that if referees favored my rivals, they had no choice.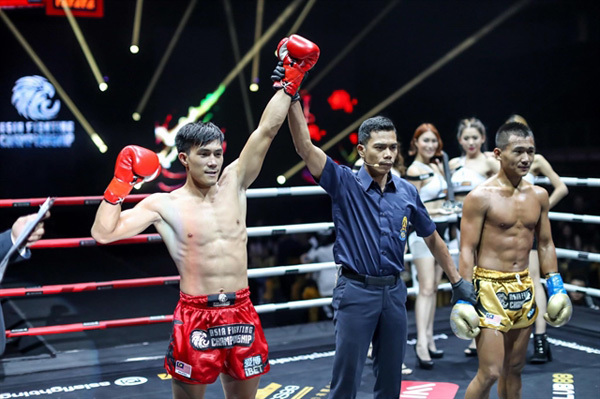 Nguyen Tran Duy Nhat has won titles in all competitions but not the regional SEA Games, which is as competitive as the world championship.Photo courtesy of Nguyen Tran Duy Nhat
I usually forget wins to focus on recovering and practicing for the next tournaments.
The Muay Thai world championship in 2011 would be the best to date. I defeated seven athletes in seven nights in a row to take the title.
After that, I was in pain and had blood in my urine for a month, resulting from complex and high-intensity competitions.
It will be your fifth time at the SEA Games this May. How do you feel? Is it nonsense to say the SEA Games competition is more difficult than the world championships?
Muay Thai is the traditional martial art of Thailand, so they have really quality artists. The SEA Games is tough. It is as competitive as the world championships.
Another matter issue is referees. Sometimes, referees give points based on their feeling and emotion, which is one of many problems that athletes face during a match of different sports, not only Muay Thai.
At the 2021 world championship, I lost to Florent Louis Joseph of France on points. Due to technical mistakes, the scores for the first round were announced in the middle of the second round. If I knew my points were less than Joseph's, my tactics for the next rounds would be different, and I may not have lost.
Do you research your opponents for the Games? What are your plans?
I am a little nervous about my fifth time at the SEA Games because this is the only competition that I have not won. I will compete in the 60kg class against fighters from Thailand, Laos and Cambodia.
I believe that Thai fighters are the most difficult. My job now is to prepare really well to be at my best.
In one month, my team and I will have a training course in Vinh Phuc Province, the Muay Thai venue for the SEA Games.
We have to practice for up to eight hours per day. Sunday is a rest day, but a 10km run is mandatory.
After my last loss, I found my weaknesses and believe that I need to improve my physique to compete against young fighters at the Games. Again, I have to knock out my rivals to win.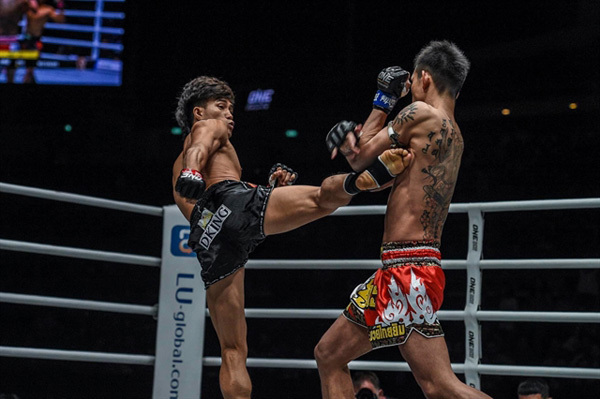 Nguyen Tran Duy Nhat (left) will have the advantage of home ground and fans to grab his title in the last SEA Games of his career. Photo courtesy of Nguyen Tran Duy Nhat
This might be my last SEA Games because I plan to move to professional competitions. It is organized in Vietnam, so I have great support. I hope my parents and friends will come to see my fights directly. I could not top the podium in the past four Games, but I will try my best to take the only missing title in my collection this time.
What are your hopes for your two martial art dojos?
My dojos are open for almost 200 trainees per day, practicing traditional martial arts, boxing and Muay Thai.
Many people come to improve their physique and fitness and decrease their stress. Some show their talents, and I recruit them to my team and give them free courses and chances to compete.
I am happy to see many potential athletes. They are smart and learn fast. In the next few years, Vietnam will have a talented generation who will push our name higher internationally.
But, whatever reasons they come to me, they must learn the martial art philosophy and tradition of respecting masters.
Martial arts, and sport in general, look to create a better and happy life for people.
Source: Vietnam News

Vietnam's top Muay Thai fighter to compete in ONE Championship Singapore
Vietnam's top Muay Thai fighter Nguyen Tran Duy Nhat will compete against Japanese rival Yuta Watanabe in the ONE: Edge of Greatness event to be held at Singapore Indoor Stadium on November 22.

Vietnam's Duy Nhat reaches quarterfinals of World Muay Thai Championship
Nguyen Tran Duy Nhat, a talented Vietnamese martial artist, qualified for the quarterfinals of the men's 60kg category at the World Muay Thai Championship that is currently underway in Bangkok, Thailand.